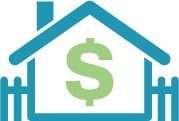 How to Buy a Home
and Get Pre-Approved
Why Work with a Mortgage Broker When Buying a House
Make the home buying process more manageable by hiring a mortgage broker to help you secure financing.

Let an experienced broker take over from the pre-approval process so you can gain access to the most competitive rates and flexible payment terms on the market. Some brokers can also help you waive your application and appraisal fees. They'll handle these things so you can make time for more important matters.
Buying a Home:
From Financing and Beyond
Buying a home is an exciting process, but it can also be somewhat overwhelming, especially if you are a first time homebuyer. Here are the steps toward buying a home, and some tips to ensure the process is seamless:
1. Know when you are ready! Some tips to help you decide:
You have saved enough money in savings for down payment and closing costs.
• Be sure to check with your loan officer about the specific down payment requirements. Some programs are available for assistance for qualified buyers.
You know your credit score/credit history.
• This is very important in the homebuying process, as some loan programs are structured around a particular credit score.
You are tired of paying rent.
• Many potential homeowners think they cannot afford the mortgage payment on a home, when in reality, their mortgage payment with taxes, insurance and mortgage insurance would be less than what they are paying in rent each month.
Your employment history is stable.
• You have been employed in the same line of work for at least two years, or you have been in school for at least two years and obtained employment after graduation. Lenders don't like to see gaps in employment greater than a few months, so keep that in mind when applying. Having a two year work history with multiple employers and varied lines of work can be acceptable.
2. Saving/budgeting and knowing what you can afford
Knowing what you can afford is very important, because you do not want to purchase a home that is beyond your means. You do need to consider your other monthly obligations, which include any child support, auto loans, student loans (even if in deferment), credit cards, and other installment loans. If you are unsure of what would be considered part of your debt to income ratio, contact your lender. Your loan officer will run these numbers for you to come up with an affordable purchase price, with the lowest monthly payment available.
3. Work directly with your loan officer for a prequalification and a preapproval
What is the difference between a prequalification and a preapproval?
• A prequalification is a good way to get an estimate of how much home you can afford, while a preapproval is going a step further and will involve a credit check, verification of income and assets. You can obtain a written preapproval in order to begin your home search.
Some other important mortgage terms to know are:
•

Disclosures

 –

your personalized mortgage documents that need reviewed and signed initially and throughout the loan process
•

Debt to income ratio

– your monthly obligations (including the new housing payment) divided by your monthly income. This must be a certain percentage for your loan program
•

Loan Estimate

– this is an document that spells out your monthly payment, by breaking down the loan amount, interest rate, escrows, and term and gives a detailed breakdown of closing costs associated with your loan
•

Closing Disclosure – similar to the loan estimate, but more detailed and must be reviewed and signed at least 3 business days prior to closing

•

Earnest money deposit – this is your good faith check for the purchase of the home that is held in escrow and applied toward the purchase

•

Appraisal

– this is a valuation report for the property you are purchasing -you will receive a copy of this important document once its complete
•

APR – your interest rate as a yearly rate, which may include any fees associated with the loan

•

Escrow – taxes and insurance held in an account by the lender to ensure they are paid ontime

•

FICO Score

– taxes and insurance held in an account by the lender to ensure they are paid ontime 
•

Home Inspection

– an inspection of the home you are purchasing in order to identify any issues or repairs- you will receive a copy for your review
•

PMI/MIP

– Mortgage insurance is required if your down payment amount is less than 20% this can be a monthly amount included in your mortgage payment, a financed amount with your loan amount, or a combination of both.
•

TITLE insurance

– title insurance protects your home against liens or encumbrences against the property and is required by the lender. The fee for this is part of your closing costs.
•

Underwriting

– this is the process where all of your information is reviewed for loan approval by a qualified mortgage analyst
•

Conditional Loan Approval

– This is a written document of your loan approval, which is shared with the sellers side of the transaction to validate your ability to purchase. Conditions are additional documents needed for final approval
Should you search for your home with a realtor or for sale by owner?
Decide where you want to live - the area in which you live is very important, especially when you factor in things such as commute time for work or school, daycare, and proximity to family and friends. Also, the average time a person or family lives in their home has increased almost 50% since 2010- from 6 years to 10 years, so consider the area carefully when seeking a home.
Many potentional homeowners don't realize that in the majority of purchases, the seller pays the real estate commission for the home purchase for both sides of the transaction. So essentially, the realtor is working for you, but you are not paying them for this service. Your agent will show you homes in your price range based on your preapproval letter. In the case of the for sale by owner, which can be an attractive alternative to using real estate agents, the negation occurs directly between the seller and the buyer, and your loan officer can assist with any questions that may arise.
This can be the most exciting part of the home buying process. You have found a home that you love and see yourself building a future in, and you are ready to make an offer! It can also be a little stressful, especially if there are multiple offers on the home since the seller has the right to select the offer they like the most. In these cases, your real estate agent should have the experience to handle this process and will guide you through every step necessary to secure the home for you.
5. Mortgage approval from underwriting
This is also a very exciting step in the buying process- your loan has been reviewed by an underwriter and given a conditional approval. Conditional means you may have a few conditions to satisfy before closing, such as an updated bank statement or paystub, but you are officially approved and you can take a deep breath! You will receive a copy of the approval in writing. Your loan processor will work with you to ensure all conditions are satisfied well in advance of closing.
6. Settlement Date & Closing - You made it!
Everyone's hard work has paid off, and It is closing day! You are ready to finalize the paperwork and funds for your home purchase. You will receive your closing documents on this day to review and sign, and you will also be finalizing the amount owed to purchase the home with a cashier's check or wire to title. Once every document has been signed, you will receive your keys to your new home and you are ready to move in! Congratulations on this amazing milestone!
What does it mean to be a homeowner?
Here are some quick tips!
1. Make your mortgage payments.
Your loan officer will provide you with the information on the amount, the first payment due date, and where to call in or mail your monthly mortgage payment. You may also have the option to pay online, or auto deduct the payment from your account each month on a specified date.
2. Pay your property taxes.
Your monthly payment may include the taxes in the payment, but if you have chosen to waive your tax or insurance escrow, you must make your payments by the due dates on your bills. You may have one tax to pay, or up to three, depending on the area in which you live. A sewer bill may also need to be paid.
3. Flexibility and expertise to meet your needs
BVM brokers navigate our clients through any situation. If clients have credit issues, the broker has access to lenders which offer the best products to meet their needs. Clients that need larger loans than their bank will approve benefit from our ability to successfully obtain financing. If a client has the highest of qualifications, we have wholesalers who specialize in the most competitive pricing for the very select who qualify.
Now that you are a homeowner, you want to maintain your home and the area surrounding it. Keep your grass cut, weeds at bay, and do regular maintenance on your hot water heater, heating and cooling system.
4. Set up miscellaneous services and more.
• Setting up trash services
• Setting up water services
• Setting up gas/electric services
• Setting up pest control services
• Regularly clean gutters
• and more...
Mortgage Pre-Approval Process:
FAQs and More
Getting Pre-approved for a mortgage is the first important step to take, letting you know how much you can afford. Knowing your interest rate, monthly payment, closing costs, and down payment options are all valuable pieces of information you obtain in the preapproval process. By getting preapproved well in advance of your home purchase, you can be well prepared if you need to strengthen your finances
A mortgage pre-approval is the process of determining how much money you can borrow to purchase a home, a "physical exam" of your finances. We look at your credit history, credit score, debt-to-income ratio, employment history, income, assets, and liabilities. Wow that sounds intimidating, but generally most borrowers can answer 95% of the questions the loan officer has during the pre-approval application without digging up any documents.
Prequalification vs. Pre-Approval
You may have heard the terms prequalification and pre-approval used interchangeably, but they are not the same. A prequalification is similar to a pre-approval, but it is not as accurate, it's just an "idea" of what you might be qualified for. With a prequalification, you only provide an overview of your finances, and there is no credit check. A prequalification may be a helpful starting point to determine what you can afford, but that's all its good for. You cannot make an offer on a home with a prequalification.
A pre-approval is more in depth than a prequalification, and involves filling out an application so the lender can do a hard credit check. For this process, the lender pulls your credit report AND your mortgage credit score, to see how much debt you have and to assess your credit worthiness. You can do a soft credit pull on your own, but lenders cannot use those reports and they do not generate "mortgage" credit scores.
When you get preapproved, you list your bank account information along with other assets, debts, employment history and income, past addresses, and other details for the lender to verify. You may be required to provide documents such as paystubs, w2s, and bank statements to prove your income and funds available for down payment. Lenders use this information to calculate your debt-to-income (DTI) and loan-to-value (LTV) ratios, important factors in determining your approval amount and down payment requirement.
When should I get pre-approved?
This loan allows any active duty or retired military to renovate their home purchase and their existing home. The VA Renovation loan allows all cost of the loan to be 100% financed and rolled into their mortgage payment. Since this loan is backed by the government lower rates tend to apply. The maximum renovation cost may not exceed over $100,000 and must be used on a primary residence only, either on a one- or two-unit home. The program only allows renovations on minor remodeling and non-structural repairs. The requirement for the loan is to have at least 620 minimum FICO, and all work must be completed within 4 months of closing. Only one general contractor is allowed, and must be registered with the VA.

Now that you are a homeowner, you want to maintain your home and the area surrounding it. Keep your grass cut, weeds at bay, and do regular maintenance on your hot water heater, heating and cooling system.
Step 1: Apply and check your credit.
Simply apply online by clicking the button below. Our online application asks you a series of questions, you'll give us information about yourself, the home or price range of homes you'd like to buy and your income and assets. You won't be required to provide any documents up front, but upon completion of your application you will receive a "Need's List" email with a list of documents needed to complete your pre-approval based on the answers you provided.
Call Brandywine Valley Mortgage at 484-282-4252 and speak directly to an experienced loan officer to complete the application over the phone (often fastest outside of normal business hours).
Step 2: Customize your mortgage solutions.
A Brandywine Valley Mortgage loan officer will prepare mortgage solutions and we'll see how much you can be approved for. We recommend loan types, down payment options, interest rates and monthly payments, and discuss your budget so we can counsel you as best as possible on the best options for your purchase.forward directly to your realtor.
Step 3: Deliver your pre-approval letter.
Once your options are discussed and you choose your mortgage program, we'll send your pre-approval letter. You will get it electronically and we'll keep a copy of it in your application. If you need to make changes on your pre-approval amount, you will have access to your application 24/7 and you can easily send yourself an updated copy or forward directly to your realtor.
Have more questions? Reach out to a member of our team to get started.
Why Choose Brandywine Valley Mortgage
As an established brokerage in West Chester, we've assisted with thousands of transactions with varying levels of difficulty. No matter how simple or complex your mortgage program is, you can count on Brandywine Valley Mortgage to build a smooth game plan that makes financing and payment terms easier for you.
Secure Your Mortgage Today
You're so much closer to buying your next home by hiring a broker from Brandywine Valley Mortgage. We find the most competitive rates and flexible terms for you.