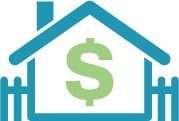 Purchase Power: Lock, Shop, Get Approved!
What does this mean?  Instead of locking your rate after you've gone under agreement to purchase a home then having an underwriter review your application, Purchase Power allows you to lock your rate, get a loan approval from the underwriter, and shop for a home!
How does Purchase Power work?
First, you get a TBD (To be determined property) Loan Commitment.  This is a form of pre-approval that will take your offer to the next level.  We go through the same steps as a typical pre-approval, such as reviewing mortgages programs and performing a credit check, discussing your income and assets, and preparing financing options that meet your goals.  An underwriter will then perform an in-depth review of you credit and finances just like if you had already found a home and formally applied for a mortgage.
Once you have a TBD loan commitment, you can lock in an interest rate for up to 180 days, BUT if rates have improved when you find a home you can lock in a LOWER RATE!!!
Benefits of Purchase Power
If rates go up while you are shopping for a home, your mortgage approval will not be affected. When rates go up so do your mortgage payments, and that could affect how much home you can be approved to purchase.
You'll have a TBD Loan Commitment when you put an offer in on a house, putting you miles ahead of other offers who have only been "pre-approved".
The rest of the mortgage process can move very quickly since you have already been approved, making closing fast a very flexible process.
The Purchase Power program is ideal for anyone who knows they will be buying house but hasn't found one yet.  Mortgage rates can fluctuate considerably between the time someone is "pre-approved" and they find a home, and a higher rate can deter a homebuyer from making an offer or even disqualify them altogether. 
Fortunately, with Purchase Power, you have the peace of mind that while you're looking for a home, you can enjoy the experience knowing your interest rate can't go up and you already have a commitment from your lender, and when you find that perfect property if rates get better you can lock the lower rate.
Contact a Brandywine Valley Mortgage to lock shop and get approved today