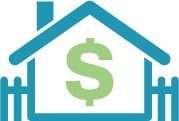 Loan Options for
Your Mortgage
Conventional loans are often referred to as Conforming Mortgages and are available as fixed rate (typical terms are 10, 15, 20, 25, and 30 years fixed) and adjustable rate (ARM) up to loans amounts of 647200 (higher amounts available in "High-Cost" areas). A conventional loan is a great option if you have a credit score above 620 and little debt. You can avoid private mortgage insurance (PMI) by putting 20% down of the loan upfront, which will lower your mortgage payments. Conventional loans are available with a down payment as low as 3% if you are not able to make a large down payment, and even offer lower PMI options if you are a first-time home buyer. PMI can be removed when you reach 20% equity in your home.
FHA mortgages can be attractive options for many first- time home buyers, since one of the biggest hurdles that first time homebuyers face is saving up for a sizable down payment on a home. FHA loans are mortgages backed by the U.S. Federal Housing Administration. Lenders, such as banks and credit unions, that provide FHA loans provide funding for home purchases while requiring a lower down payment. FHA requires only 3.5% down with 580 credit scores and 10% down with as low as 500 credit scores.
Advantages of an FHA Loan:
• Purchase your home with as little as 3.5% down payment (compared to 20% required on many loans).
• 30-, 25-, 20- and 15-year terms are all available with fixed rates.
• Pay your mortgage off at any time without pre-payment penalties.
The VA home loan is a $0 down mortgage designed to offer long-term financing to American Veterans, Service Members, and select military spouses. VA mortgage loans are issued by federally qualified lenders and are guaranteed by the U.S. Veterans Administration.
• 0% down
• Does not require PMI
• Competitive Interest Rates often much lower than conventional
• Easier to qualify
• No minimum credit score requirement
USDA/Rural Housing Home Loans
The U.S. Department of Agriculture offers a variety of programs to help low to moderate-income individuals living in small towns or rural areas achieve home ownership. The Rural Housing Service (RHS) helps qualifying applicants, who may not receive credit from other sources, purchase modestly priced homes as their primary residence.
Advantages of an RHS Loan:
• Minimal closing cost
• 30 year fixed rates
• No money down required
• Seller may pay up to 6% of the purchase price toward buyers costs
• Lenient credit guidelines
The property must be in an eligible rural area. You can see the map and run a property address by clicking here: https://eligibility.sc.egov.usda.gov/eligibility/welcomeAction.do?pageAction=sfp
There are also housing income restrictions and limits on this program. The income limit and calculation is determined by the total number of people in the household, including all income (even those who are not a borrower on the loan). To see the Guaranteed Housing Program Income Limits (under the Mod. Inc.-Guar Loan section), click here: https://www.rd.usda.gov/files/RD-GRHLimitMap.pdf
Jumbo Homes Loans can make high-end home purchases possible. When a loan amount reaches a certain point, Jumbo and Super Jumbo Loans can offer high-end financing that a traditional loan can't.
Over the past few years, some lenders have decreased their Jumbo Loan offerings and have made them harder to obtain. At Brandywine Valley Mortgage, we can get you a great rate on your Jumbo Loan.
Advantages of a Jumbo Loan:
• Our Investors offer down payments as low as 3% for Jumbo loans (with no Private Mortgage Insurance) as well as 80/20 combo loans for 100% financing options. With a choice between fixed or adjustable rates, in addition to wholesale lender comparison on product offering, our jumbo programs offer maximum flexibility for home financing on larger loans.
In a word, a reverse mortgage is a loan. A homeowner who is 62 or older and has considerable home equity can borrow against the value of their home and receive funds as a lump sum, fixed monthly payment, or line of credit. Unlike a forward mortgage - the type used to buy a home - a reverse mortgage doesn't require the homeowner to make any loan payments.
Instead, the entire loan balance becomes due and payable when the borrower dies, moves away permanently, or sells the home. Federal regulations require lenders to structure the transaction so that the loan amount doesn't exceed the home's value and that the borrower or borrower's estate won't be held responsible for paying the difference if the loan balance does become larger than the home's value. One way that this could happen is through a drop in the home's market value; another is if the borrower lives for a long time.
Non-QM Mortgages (Self Employed, Credit Events, Non Bank/Portfolio)
A non-qualified mortgage (non-QM) is a home loan designed to help home buyers who can't meet the strict criteria of a qualifying mortgage. For example, if you are self-employed or don't have all the necessary documentation to qualify for a traditional mortgage, you might need to look at non-qualified mortgages.
Should I get a non-qualified mortgage?
A non-QM mortgage is a good idea when you have the income to make regular, on-time mortgage payments, but cannot get a conventional loan.
The type of borrower who might benefit from a non-QM loan includes:
• Retiree
• Self-employed
• Real estate investor
• Business owner
• Foreign national
• Buyer who lives off investments, or has high assets and low income
• Buyer with a high debt-to-income ratio
• Buyer with less-than-perfect credit
Reach Out to Brandywine Valley Mortgage
Brandywine Valley Mortgages offers a wide range of mortgage loans from dozens of lenders, credit unions, and wholesale financial institutions. Our large network offers you a better opportunity to obtain the loan product and interest rate that best suits your needs.